RESOURCES


A WEALTH
OF INSIGHT

OUR REPORTS KEEP YOU AT THE FOREFRONT OF THE LATEST MARKET TRENDS
Over the years, Boxwood Means has collected, researched and published an enormous volume of data and research on the small-cap commercial property market. Our reports are among the most respected and most frequently cited in the industry. No matter where you do business or the types of properties you finance, it's a safe bet we've studied it.
Take a look at some of our free resources below,
and help yourself to our complimentary research and newsletters.
SMALL BALANCE ADVOCATE ARCHIVE
SMALL BALANCE ADVOCATE ARCHIVE
NEWSLETTER
NEWSLETTER SIGN-UP
Sign up for our periodic newsletter including the Small Balance Advocate in order to get small-cap CRE market intelligence and insights delivered to your inbox.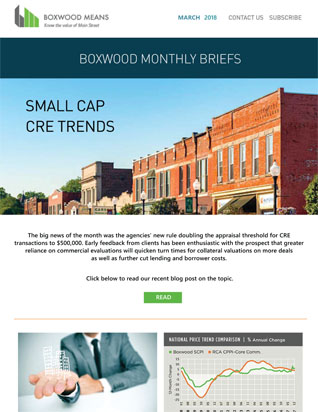 SBL NATIONAL REPORT
SBL NATIONAL REPORT
Our national Small Balance Loan (SBL) reports provide a comprehensive view of top lenders and market opportunities nationwide to support strategic planning, new business initiatives and new loan product development.
To receive a complimentary SBL report: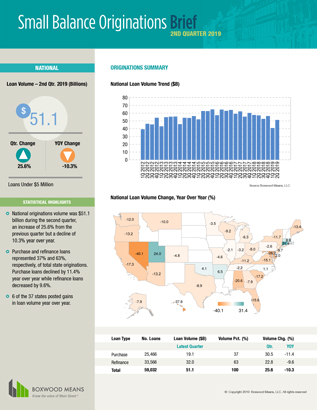 Current issue of SBL National Report
METRO SMALL-CAP PRICE INDEX REPORTS
SAMPLE METRO SCPI REPORT
Small-cap CRE assets have proven to perform differently than large-cap properties over time. We capture the unique performance of these assets in 2-3-page PDF reports covering 125 U.S. commercial and 45 multifamily markets. These concise reports, updated monthly, include tables, graphs and narrative highlights that are must-have intelligence for credit analysts, underwriters and portfolio risk managers among other staff who need to keep on top of key market metrics and trends.
Register to review a sample metro SCPI report.
Want to subscribe to our quarterly SBL reports for one or more U.S. states?
Or subscribe to our monthly SCPI reports for multiple metro areas? Contact us.